Digital vs Live Experiences
1. People prefer live experiences over digital ones.
2. Digital experiences are considered an alternative to "no experience at all".
3. Digital cultural events are here for good.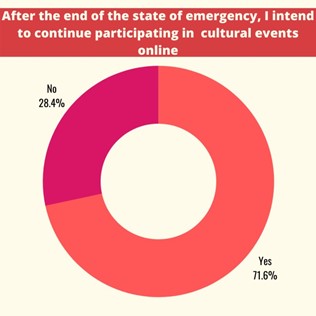 The majority of people share that they consider digital experiences as an option when there are no other experiences to be had, not as an alternative to live experiences.
The key reasons to choose digital culture are:
Specific experiences at not currently available, no events in the area OR international events taking place far away
Digital culture saves travel time / cost
Acceptable mainly when attendance is convenient – the user can decide when to attend them, consumer chooses the time
NB: Users are less willing to adjust their schedule for digital events, commitment is weak